Numerology
NUMEROLOGY HOROSCOPE 2018 PREDICTIONS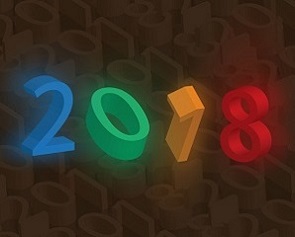 Your personal numbers are going to help you understand things you should wait and be prepared for in 2018. These numbers will also open you some hints on how to behave in a most profitable for yourself way to get maximum use from 2018.
2018 starts absolutely new trend as in real life, so in numerological direction: 2+0+0+1+8 = 11. Number 11 is a master number, that has stronger influence and meaning. In past, 11 was a number of years when lots of historical events took place. For the whole world number 11 will bring more tolerance, new innovation will appear and become a usual part of our life. It is a year of changes with intense and great impact.
All of you who've been waited for a year when it is better to do something that you planned, 2018 is this year, as it is one of the most positive years ahead. In 2018 we will deeply understand how everything in our life works, it is a year of enlightenment and progress and of responsibility. Numerology will be your mediator between the world you live in and the knowledge the numbers provide.
Calculate your Personal Year Number
Input your date of Birth:
2018 is for the peace.
2018 is not a year for aggression or hot temper. Instead, set yourself for a peaceful mood, because only things with positive and calm energy have chances to succeed in 2018. If you maintain peace in all spheres of your life (which is a hard work) you will get an amazing and very positive atmosphere in your life. The biggest success will come to people who are detail-oriented and consistent in what they do.
2018 year is favorable for people who have principles, are sincere, direct and flexible. It is important to find the place where you feel comfortable in 2018. So, in order to prioritize things correctly, the first thing is the right place, where you feel comfortable, and then if you have found this place, you can go for self-development and romantic relationships.
Here is more detailed overview of each Personal number 2018.
PERSONAL NUMBER 1 – THE NEW BEGINNING

2018 says that lots of problems in your private life will be resolved, and by the end of this year you will feel happy. In 2018 the tension will be relieved and you will be able to plan your life without emotional disturbances. Lots of opportunities are open to you in 2018. The changes in your life will be positive and you will finally feel that you are not only ready for action, but you really want it. In 2018 your small goals will be fulfilled, especially in career and private life. Also, you will figure out the way to use all the situations to your own advantage. Problems of the past will leave you. It is a year to pay attention to your closest people. They will also play a huge role in your well-being in 2018.
This is a great chance to improve yourself and progress. A great potential of a new job offers, believe in your strength.
PERSONAL NUMBER 2 – STAY FOCUSED

At the beginning of 2018 you will face some obstacles. Challenges will follow you up to March, so concentrate your strengths. Get ready for a quite stressful period. People from your close set will disappoint you. Also, you need to watch for every word you say, as under stress you can say the words to regret then. Your private life will be your main priority. Don't forget about your work and try to stay concentrated. The best way for you to go through emotional period is to socialize more, find people with the same ideas, put more time into your hobby or finding one will be very good as well. It can even bring you financial success. Your family will need your help and attention, and you will get lots of warmth from them.
PERSONAL NUMBER 3 – DARE TO DARE

In 2018 you need to become more active in everything you do, and in everything you are afraid to do. In 2018 you can make your plans possible. During this year you will get more and more confident in yourself, in your dreams and desires. It is very important for you to understand that you are the main person in your life and you need to treat yourself more often. Even your everyday life will seem more interesting and entertaining in 2018. Also, take chances, as this year is really profitable for you.
As you understand your energy level will be always higher than usual during 2018. It is in your best interest to transform your energy into actions, projects and implementation of your plans. You will love 2018, as it will bring you lots of good memories. 2018 for you will bring lots of inspiration, success and warm moments.
PERSONAL NUMBER 4 – THE YEAR OF REWARD

In 2018 every step you do will lead to your greater confidence. It is a year of ambition, strive, success and inner drive that gives you energy to accomplish everything planned. Any task you aim to fulfil is going to get a positive outcome. Use 2018 at maximum. This year rewards you for your determination, so as long as you are active and continuously developing, you will get the best from 2018. Though you will face obstacles, your dedication and strive will get you through this. Pay more attention to your family and home life, as your participation and care is very important to people you love. Don't lapse from the tasks you've planned to accomplish, focus is the key.
PERSONAL NUMBER 5 – MAINTAIN LIFE BALANCE

2018 is a year that will bring lots of great and successful moments to you. Things will be changing all the time, and you must be flexible enough to go through it. Though there will be some obstacles on your way, it is a matter of time when you overcome them. Due to your flexibility nothing will really surprise or shock you this year. You will get lots of good ideas and will maintain a strong belief in yourself. Concentrate on the realization of your goals, don't spend time thinking them over and over, just go for it. Your personal relationships will be on the background, while the matters of work and business will be a priority. Keep up your logic reasoning.
PERSONAL NUMBER 6 – GET READY FOR ACTION

The first quarter of 2018 will bring you some problems. However, you will not only resolve them, you will do it in a very unexpectable manner. Your material status will improve. In order to maintain it, you will need to learn a lesson of adjustability. If something happens, do something right after, don't procrastinate, otherwise your year will be just usual. Bring yourself into action, make some changes in your life, and you will feel this vital power. Get ready for career opportunities and closer relationships with your family. Your family will need more of your attention, some domestic issues can be resolved only with your participation. Your experience from the past will help you in 2018 very much, especially in order to increase your financial capabilities.
PERSONAL NUMBER 7 – THE LOOK WITHIN

It is the year of self-understanding, of maintaining inner peace and realizing what you really want. People will think that you are okay, as the main activity will be within and not shown for the outer world. Lots of things that you believed to be true will be reconsidered. The truth will come out and it is often painful. 2018 is a transitional period for you, and it is positive, but in order to change and to open to new opportunities in the future, the present you have to change. The year in general is very good for your life, just stay tuned with your friends, get support from your family. It is important not to rush with anything in 2018, take your time, make conclusions and then act. There will be situation when your 'overthinking' will keep you away from irrational and damaging decision. So, stay concentrated, and doublethink everything.
PERSONAL NUMBER 8 – STRIVE FOR MORE

In 2018 everybody will be surprised with your drive and ambitions. It is a year of profit for you. In 2018 you feel equally energetic and inspired, so you are ready for new accomplishment. Your motivation is a subject of envy. However, your past decisions will not leave you in 2018 and you'll have to cope with them. There is a way out of every situation, and you know the right one. Keep on believing in yourself, and the universe will make others do the same. Do not show a shade of the doubt on your face, even if you fail, make it seem like a part of intricate plan.
PERSONAL NUMBER 9 – GET READY FOR THE NEW PHASE

In 2018 you will have a chance to break the ties with past events you no longer want to participate in. The ghosts of the past will leave you, but you will need to do some steps for it. Take this experience into account while making decisions, it will save you from failures in 2018. In the middle of the year you will feel really happy, and the year for you is quite successful. The 'downs' have gone, and you are open to 'ups'. The desire and consistency are you keys to win in this year. In 2018 set the direction for innovation, create your plan and follow it.