Numerology
NUMEROLOGY HOROSCOPE 2019 PREDICTIONS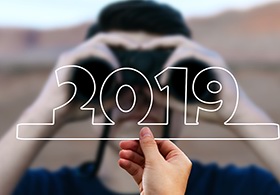 Do you want to know what to expect from 2019? Is it going to be your lucky year or the one that you will remember as a downtime? Let's take a closer look at 2019.
2+0+1+9 =12, 1+2= 3. 2019 is associated with a number 3 which is generally a very good sign. Number 3 is a lucky number bringing us a better year than a previous one. Number 3 is a number of freedom and power over people's lives. Though 2019 is going to bring us some obstacles and challenges, we will be able to successfully beat them. It is going to be a year of connections, new ideas and their implementation. Also, it is a year of expressing emotions and creativity. For many people this year will be associated with traveling and exploring both internal and external worlds.
Calculate your Personal Year Number
Input your date of Birth:
PERSONAL NUMBER 1 – THE START OF THE CYCLE

At the beginning of 2019 many problems that haunted you in 2018 will come to an end. In 2019 people will be able to have some rest from a troublesome 2018, as 2019 is going to be way calmer in terms of problems for personal number 1. In 2019 you will understand that you can start fulfilling your plan as the circumstances will be really favorable. 2019 is a great year to start implementation of your most desired dreams, ideas, projects and creative undertakings.
It is a good idea to start from small steps, implementing it one by one, especially when it comes to career or business. The energy of 2019 is calmer than it was in 2018, so it is better to act in a more reasonable and logical manner in order to achieve a lot by the end of 2019. However, though the energy of 2019 is calm, it doesn't mean this year doesn't expect any dynamic actions. In 2019 you will be able to convert your problems from 2018 into fruits or at least figure out how to get rid of them forever.
2019 will be a year of family and close friends, as they will need some attention from you. 2019 has an energy of creativity and good communication, so if you had problems with family or friends in past, they will probably be resolved this year.
This year you will be successful, but the right way to reach your success is to make small steps, get small victories but on a regular basis. You will need to make a continuous input into your undertaking this year, despite its nature: startup, project at work, personal idea, house renovation, etc. Only consistent steps will bring you to a positive and stable result.
Generally, personal number 1 is going to have an amazing year ahead, filled with lots of contacts, creative ideas and small victories.
PERSONAL NUMBER 2 – ALWAYS KEEP YOUR GOALS IN MIND

At the start of 2019 you will encounter some problems. This situation might continue till the end of the first quarter of 2019. The best thing you can do is to focus on your strongest sides, talents or on the thing you are really proficient with. Basically, in order to avoid any stresses and negative consequences of the relatively hard beginning of 2019, you need to stay as focused as you can on your main goal.
Pay attention to people you love most, as in some cases they will really need you right beside them. This year for personal number 2 is mainly associated with private life and the most essential changes will affect this area of your life. It doesn't mean that the changes are negative. Pay more attention to your soulmate and try to keep up good relationships with your family. It is a good year to make peace with your family, if you had rough times before. Also, it is a favorable time to resolve any conflicts with your spouse/ or the person you love in order to relieve the tension in your relationships.
However, it is not an excuse to forget about your work, try to stick to the plans regarding your career, as the second half of 2019 will favor career-related matters.
The first part of the year will be quite emotional for you, so now when you are reading it, you can at least expect some upcoming changes and not be startled by it. People who are studying or learning to upgrade their qualification need to be especially attentive, because on the final exam every detail will matter and you will be surprised how simple attentiveness will help you reach your goals.
PERSONAL NUMBER 3 – THE DYNAMIC YEAR

2019 is a year for you to be proactive, as now it is the best time to fulfill all your short-term goals and build up the foundation for realization of your long-term ones. It is not a year for you to rest or to be passive. Usually personal number 3 is a sign of dynamics, both internal and external. In 2019 it is connected with self-awareness. You will become more self-confident, determined, and it will be way easier for you to understand what you really want.
Also, this year the limelight is on you. You need to pay attention to yourself, to truly listen to yourself, as later it will become a basis for your future success. If you narrow your desires only to those that really matter to you, the direction of your life will become clearer. So, starting from the beginning of 2019 your first goal is to increase self-awareness and then to act towards your goal. You don't have time to rest this year, leave it to another year. This year you'll need to be as active and determined as you can, as you have all the chances to reach what you want during 2019.
For people who are studying or want to get some certifications or professional courses, especially those connected with medicine, pharmaceutics, MBA and business matters there is a high possibility of getting through all the exams successfully. Also, personal number 3 is usually associated with metaphorical fruits: promotion, getting more money, successfully changing jobs, respect from people around. It is a good year for you and your family, especially for those who have spouses.
PERSONAL NUMBER 4 – REAP YOUR FRUITS

For personal number 4 2019 will be a year of getting rewarded for all your previous strivings. If you feel that 2018 was some sort of harsh with you – don't worry. 2019 will fix the situation and if you were working hard towards your goal last year, you'll get what you deserve this year.
Make plans, dream and desire for new things as 2019 is a happy year for people with personal number 4. The only trick with this period is that you need to continue your self-development, instigate your curiosity and stay motivated for new things and the energy of 2019 will bring its fruits closer to the end of the first half of the year.
However, this year might bring stress when it comes to non-material aspects like marriage, family, friends and social life. In these areas you'll need to get ready for upcoming troubles, based mostly on lack of communication. If you feel that the situation is getting hotter, it would be better to take a pause or to discuss it later when the temper is chilled. If you decide to confront the conflict, get ready to donate your time to resolve this dispute afterwards, as it might cost you and your beloved ones some nerves.
PERSONAL NUMBER 5 – THE HARMONY WITHIN

2019 will be a good and prosperous year for you. Your career will become a priority, while everything is going to be stable in your private life. This is a year of balance: you will feel that your work/life balance is on, and that you can just keep doing things you love and succeed in most.
People with personal number 5 will be amazed by their inner calmness and readiness to action. As you now understand what type of person you are and what you are good at, what are your priorities and interests – your inner balance is maintained and external factors need to try really hard to knock you sideways.
This year will be favorable for business and work-related matters. Your private life will not cause you any troubles. However, you will need to concentrate on your work a bit more in order to maintain your stability and safety and have a better year ahead.
PERSONAL NUMBER 6 – DON'T THINK JUST DO

The first quarter of 2019 is going to be troublesome. However, you will be able to get rid of those problems in a timely and accurate manner. You will be surprised how fast and flexible you can be in problematic situations. One of the main lessons for people with personal number 6 is to avoid procrastination at all costs. This year the consequences of your passive attitude towards your business or work can cause you lots of troubles. It can lead you to decrease in effectiveness and your goals will not be achieved within next few years if you don't pull yourself together.
It doesn't mean you should be a workaholic. The key to your happy life will be as simple and as complicated as balance. Try to spend time with people you love and not to break the deadlines at work. Some attention to your house might be needed, some renovation or surrounding yourself with beautiful stuff can become some a true relief for you. Make an input to yourself, find new hobby or continue the one you'd stopped doing long time ago and low-key wanted to renew it, get a professional certification, go on vacation to the place you've never been. It will help you maintain your inner balance.
PERSONAL NUMBER 7 – THE YEAR OF SELF-AWARENESS

2019 will become a year marked as "treat yourself first". It is time to figure out your dreams, your true expectation from yourself, the image that you have in your community, your personal priorities.
It is time to think over past few years, to think about how it changed you and what your next personal goals are.
It is a time for self-reflection. Some facts that are unpleasant to you might come out, but you still need to learn how to move on without fixating on your own flaws. Bring the best in you, develop yourself, pursue different interests and try to become as manifold as you can be in 2019.
Family will be your pillar and your anchor in 2019. You will need their support. Some people consider friends to be even closer than actual relatives, so in this case you will be surrounded by your true friends.
It is a transitioning period for you, so it is important that you understand who you are and what are your main goal and priorities.
PERSONAL NUMBER 8 – GET INSPIRED AND ACT

People around will be truly amazed by positive changes I you during 2019. The upcoming year is going to make you more ambitious, motivated and inspired. You will get the fruits of all your work done in 2018.  If your personal number is 8, 2019 is going to be a year of different sorts of income starting from financial and up to spiritual earning. The problems that you had in 2018 will still ask for your attention in 2019, and it'd be better for you to get rid of them in 2019 in order not to make it cyclic.
In 2019 you will manage to get out of any situation, even very complicated ones. It is important to remember what motivates you and always stay focused on that. If you are on the right track the Universe will support you and provide the needed conditions for your future success.
PERSONAL NUMBER 9 – PREPARE FOR THE NEW CYCLE

2019 will become a year when the cycle is finishing and you can start building a foundation for a brand-new period of your life. In 2019 you will be concentrated on resolving of the issues that were disturbing you for the last few years. It is very important for you to deal with the past problems and not to bring them with you into the new cycle. As a reward, you will feel relieved, happy and well-rounded.
If the challenges of 2019 are hard for you, the best thing you can do is to switch your focus and to actually concentrate on simple and happy things like sports, inner and external beauty, tasty food, good movies and episodes of your favorite shows on Netflix or TV. Small happiness also counts and while concentrating on the good in your life, all the negative stuff will fade away.
You will be tempted to past and nostalgia will strike you even more this year. However, if you want to live in past it is hard to be really happy in present and future, you need to set your priorities, create precise plan and make a draft of your next steps towards your dreams.