Numerology
Birthday Number 25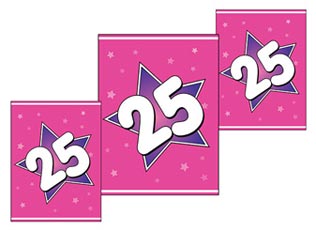 Great creative potential, vivid perception of the world, optimism are characterizing these people. They are rational and sentimental, emotional and energetic, their minds and senses are working in a perfect harmony. These are people of action and ideas. In the first part of their lives people of Number 25 may experience some difficulties because of their emotions. Over the years, they develop a sense of proportion and patience. They know their good sides so well, that they accept those as something very obvious, and not to waste time trying to impress the others. People of this Number know very well, which values ​​are the most important, and this quality is attracting others to them. Their intellectual approach to all problems is painted with a light shade of feelings and passion. If people of Number 25 can manage to control themselves, they are attentive, sensitive and perceptive, they always clearly see their goals and strive to achieve the desired results. Too strong willing for independence is their weakness, and for them it is important to get used to a firm discipline. The original creative imagination, the absence of selfish motives and accurately calculated actions are bringing them success. Behind their energetic and romantic appearance there is hidden  a philosophical, thinking nature. Being a people of action, they are not limiting themselves to reflections, they are always trying to do something, and in their own way they are making attempts to transform the world through philosophy, social work, political influence, always guided by the supreme interests. Their ambitions are intended to benefit the others, not to achieve just some personal glory. Great sense of dignity is combined with the true spirit of humanity and genuine love for people. Thanks to their energy, attraction and desire for perfection, those born under Number 25 can achieve a lot.
Emotional characteristics
Sexually they represent a quite strange combination: they are attracted to those who are wealthy, but they have a strong tendency to romance, which makes them to idealize their objects of adoration. Love is born in their minds, if the object has a good financial base. Despite the romance, the poor people are rarely attractive to those with Number 25.
Physically they are usually at the average level. They are not very adventurous and not particularly in need of sex. If they are excited, their energy is high. And yet they are sometimes sexually reserved.
Number 25 is a romantic materialist. They are happy with the business-oriented people. They need and spiritual satisfaction and wealth "in the same basket". They also need to have someone who will correspond to their dreaming nature. Changes are better than calm reflection - that's their motto. They are often in need of different "decorations", different "scenery". People of Number 25 are usually faithful by nature, they can not be called insincere or superficial. Their thirst for changes - is just a necessity, and this must be considered. However, being soft, they can suppress this tendency for changes, if it is seriously required by the one they sincerely love. As long as their personal relationships are always associated with business - this or another way -, they are more likely to suppress a desire for change, than to end the relationship.
For many people with the Birthday Number 25 it is necessary to control the desire for money and material gain, cultivating a love for art. In most cases, the early years of their lives are characterized by changes, testing and different discoveries. At a later period they live peacefully and are usually engaged in charity and philanthropy.